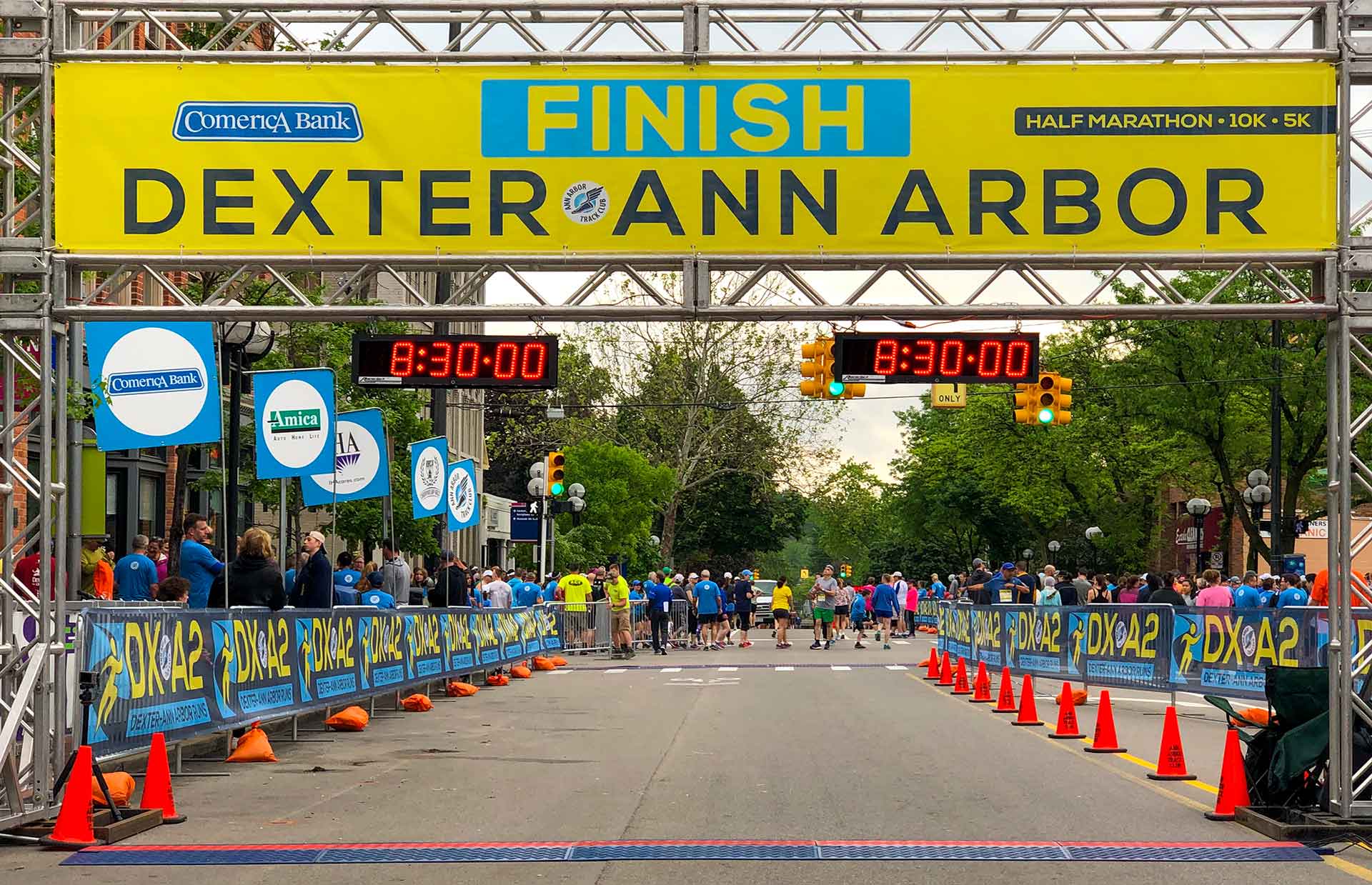 DESTINATION, ANN ARBOR!

BEGINNERS • FIRST-TIMERS • WEEKEND WARRIORS • SERIOUS RUNNERS

ELITE RUNNER PRIZE PURSE OVER $5,000

MICHIGAN'S SCENIC HURON RIVER COURSE
ANN ARBOR TRACK CLUB INVITES YOU TO DEXTER — ANN ARBOR • POINT-TO-POINT HALF MARATHON, 10K & 5K
HALF MARATHON
The beautiful shaded backwoods of the Huron River provide the setting for the annual Dexter to Ann Arbor Runs. Choose this classic Half-Marathon run on a scenic, gently rolling 13.1 mile course.
Start in the picturesque town of Dexter, Michigan and head east along Huron River Drive to the exciting finish in beautiful downtown Ann Arbor. — Road Runners Club of America's top Runner-friendly Community in the U.S.
Both the 5K and 10K events start in downtown Ann Arbor and finish at the same spot as the Half Marathon.
10K & AMICA 5K
The Road Runners Club of America 10K State Championship is great for serious runners and not-so-serious runners (and walkers) who want a little more than a 5K, but not quite the whole half. This 10K (6.2 mile) course features some of the most beautiful stretches of Huron River Drive.
The 5K (3.1 mile) run/walk is a great way for the whole family to take part in the Dexter-Ann Arbor Run. This course now features the same start and finish area as the 10K.
Both events start in downtown Ann Arbor on North Main St., near Kingsley.
FAQ
Why does the half marathon start so late? — Amtrack! There is a train that is scheduled to leave Ann Arbor at 7:50am every Sunday morning. A train crosses the course at two points between Dexter and Ann Arbor… read more
Where can I park on race day? — There are numerous lots and parking decks in downtown Ann Arbor. Race activity is located near the Ann & Ashley parking deck… view map
Are there pacers? — Yes, there are pacers for the half marathon. Look for pacers by the pace-per-mile signs in the starting corrals.
DEXTER-ANN ARBOR HALF MARATHON IS MADE POSSIBLE BY
DEXTER-ANN ARBOR RUNS BENEFIT